Free Valentine's Day coloring pages, Valentine's printables, Cute valentine images for coloring, and colour in sheets for students.
Pictures with: Cupid, boys, girls, Valentine's Day cards, hearts, chocolates, valentine to color, people in love, hearts to write in a message, blank places to personalize your coloring sheet, bears, flowers, roses, carnations, and more!
Click on any of the previews to get the print page. Have fun coloring!
For more coloring pages, check the MES Coloring main page.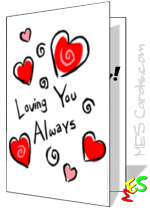 More Valentine's Day printables:
Printable Valentine's Day Cards You will find 30+ different styles of Valentines Day greeting cards to choose from. They are 100% customizable and very simple to make!
Valentine's Day cards to print with your photo
Valentine's Day worksheets Valentine's Day flashcards, crosswords, handouts, worksheets, and word searches
Printable Valentine's Day stickers - Valentine's Day stickers and sticker charts
Valentine's Day Certificates: 20+ different styles to choose from. Make personalized awards, awards where you can insert your own picture or awards where you can draw in your own pictures.
For more Valentine's Day printables, check out the Valentine's Day Printables Guide. It has a full list of Valentine's Day templates and Valentine's Day printables.